Groundhog Day! (February 2nd)
Word Lists with Interactive Games & Printables
Groundhog Day is a holiday celebrated every year on February 2nd. It is a tradition that started in the United States, but it is now celebrated in other parts of the world as well.
On this day, people look to a special groundhog named Punxsutawney Phil to see if he can predict the weather. According to the tradition, if Phil sees his shadow when he comes out of his burrow, it means winter will last for six more weeks. But, if he doesn't see his shadow, it means spring is coming early. Oh yeah!
People often celebrate Groundhog Day by having parties and making predictions about the weather. It is a fun and lighthearted holiday that is meant to bring a bit of cheer and hope during the cold and dark winter months. With that said, we hope these free Groundhog Day grade leveled word lists and interactive lessons will help make your classroom festivities all the more fun and exciting!
And here's a funny Groundhog Day poem:
On Groundhog Day, the critter comes out
To check the weather, there's no doubt
But if he sees his shadow, winter stays
Oh no, six more weeks of cold dismay

But if he doesn't see it, hooray!
Spring is coming, what a great day
We'll dance and sing and play some games
Until the groundhog's shadow fades

So let's celebrate this funny holiday
With laughter, cheer, and a festive display
We'll have a party, come rain or shine
Thanking the groundhog for his time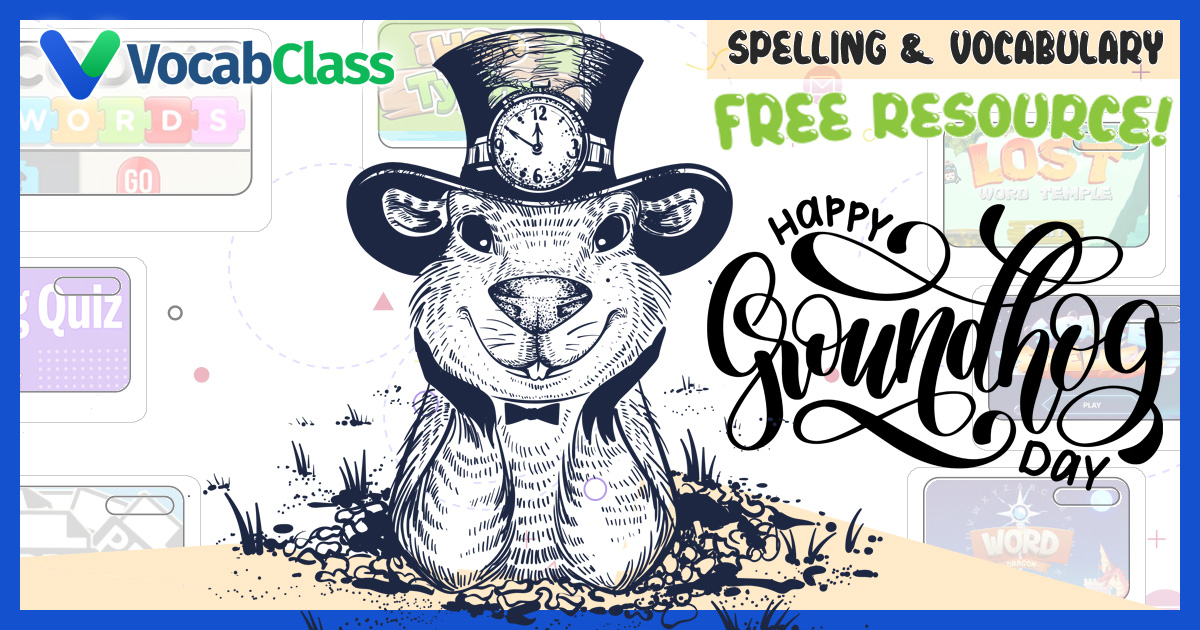 1. Groundhog Day! Word Lists Grades 2nd - 8th (3 Levels)
VocabClass has curated festive Groundhog Day! word lists ranging from grades 2nd-8th offering our complete Groundhog Day! curriculum FREE to all!
2. Interactive Lessons & Games
Our Groundhog Day! vocabulary & spelling packets includes 35 interactive lessons and games designed to defeat the boredom of traditional word study and get students excited about learning while they build a strong foundation in literacy. These building blocks are fortified by a focus on each word's long-term retention by highlighting spelling, definitions, pronunciation, contextual usage and creative writing opportunities. After a week of practice we recommend students take the spelling and vocabulary tests.
We offer traditional activities like Word Search to more leading edge challenges like our new Coding Words module that teaches vocabulary while building computer programming skills .
3. Printable Lessons & Puzzles!
With a quick click of a button you have 17 printable lessons including answer keys. View samples of our printable worksheets everything from traditional worksheets like and to new creative worksheets like coding words .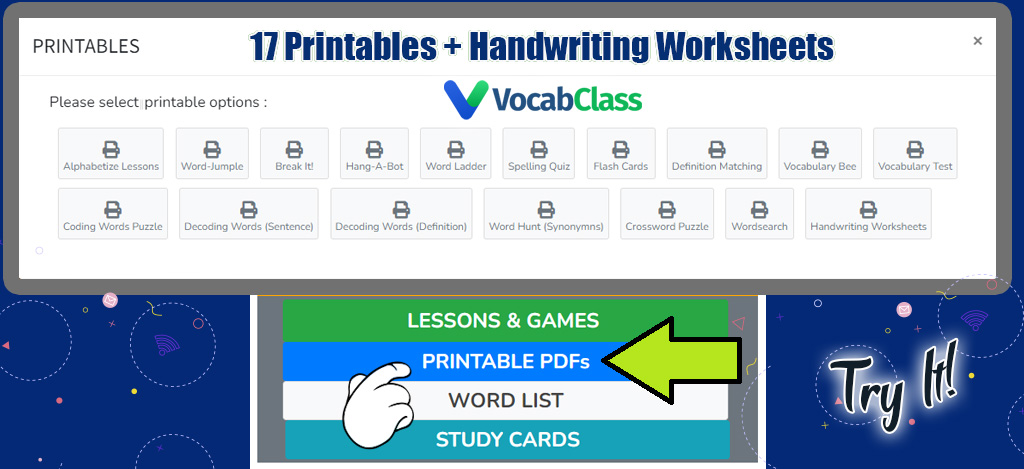 4. Handwriting Worksheet Generator
Our handwriting worksheet generator is versatile and accommodates all ages with print-writing, cursive, directional arrows and various font sizes. Whatever your needs, we have your handwriting printables covered! View samples of our coloring worksheet in a fun font , print or cursive . You can generate the perfect handwriting worksheet for your students.

Make VocabClass a part of your Groundhog Day! celebration this year and if you and your students like what you see, we are offering extended free trials of the full VocabClass program. Send us an email to learn more. Email: admin@vocabclass.com
What's VocabClass? | Share Word-A-Day post: